When you live near one of the world's most popular vacation destinations, you can expect plenty of visits from family friends, especially during the holidays. This time of year will be even more special when you can show off your home in your retirement community in Florida and make your guests comfortable at the same time.
Begin by doing as much of your holiday decorating as possible before your guests arrive. No one needs to see the boxes, clutter and chaos that accompany putting up indoor and outdoor decorations. An exception to this would be if the decorating process is a tradition you share with the folks who are coming to visit.
Be sure to add some special holiday touches to the guest bedroom and bath in your home in your retirement community in Florida. In addition to standard houseguest preparations, add a few seasonal items such as a small poinsettia plant, bows or garland.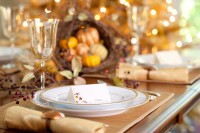 Discuss your schedule and their preferences before they arrive. You'll likely have things you want and need to do that won't include your guests, and they'll probably have things on their agenda that don't interest you. For example, do you have work, meetings or classes on your calendar? Will your guests want to shop, visit the theme parks or other attractions, and/or attend worship services? Will you be hosting or attending holiday parties? Find out and set expectations ahead of time so no one gets offended or feels left out.
And when you find out what the activities will be, let your guests know what the accepted and recommended dress is for the places they'll be going so they're sure to bring the right clothes.
Keep the ages of your guests in mind as you plan. Grandchildren are popular visitors to every retirement community in Florida. If your "grands" are very young, be sure your home is child-proofed for their safety. If your guests are seniors, be sure you can accommodate any special needs they may have.
Most important: Relax and enjoy your time together.