One of the fastest-growing groups of users on Facebook is retirees. Even as your Florida retirement keeps you busy with plenty of social and recreational activities, such as the amenitiesof Lake Ashton, you may join the millions of folks who find that Facebook lets them stay connected with family and friends across the country and around the world.
In particular, many grandparents have found that Facebook lets them maintain a strong relationship with their teenage (and even older) grandchildren as they enjoy their Florida retirement. But before you get too involved in this particular social media platform, take the time to learn how it works and be sure you aren't putting any of your private information at risk. Consider taking a class or getting help from someone who can teach you the ins and outs of Facebook.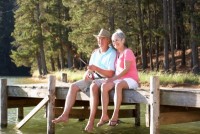 Then keep these special tips in mind to avoid embarrassing your teenage grandkids:
• Remember that all of your Facebook friends can see all of your posts. Personal and private messages are best sent via email or through Facebook's messaging system.
• Your grandchildren's friends can see what you write on their "walls," so don't say things they aren't likely to want the world to know. Remember how sensitive teenagers can be.
• Share pictures and comments that show how cool you are. Don't go overboard, but post pictures that show you living an active Florida retirement as well as traveling elsewhere. Talk about the exciting things you've done. This will engage your grandkids and impress their friends.
• Check with your kids (your grandkids' parents) before you post family pictures. Find out if they have any preferences as to what is posted and how those pictures are identified.