Thanks in large part to the hit show Dancing with the Stars, ballroom dancing is one of the most popular methods people enjoying their Florida retirement use to stay fit. Not only is ballroom dancing great physical exercise, it's a fun, social way to maintain and improve coordination as you enhance your auditory, visual and mental abilities.
As a cardiovascular workout, dancing is a great way to stay heart healthy, improve circulation, lower blood pressure, and reduce stress and tension. If you do more traditional exercises, such as walking or riding a regular or stationery bicycle, you'll find dancing offers more variety and interest to your routine and can even burn more calories. Practicing proper dance moves also helps improve posture as you build strength and muscle mass that helps prevent osteoporosis. In short, ballroom dancing challenges every part of your system, from mental to physical.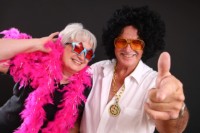 If you've never been much of a dancer, Florida retirement is a great time to change that. Whether you're a novice or an experienced performer, taking dance lessons will develop your skills and help you learn new steps and routines.
Not convinced? Consider this: Dancing makes you smarter and contributes to the prevention of Alzheimer's, dementia and memory loss (according to a 21-year study by the Albert Einstein College of Medicine in New York). Dancing is perhaps the most effective, beneficial and romantic exercise for both your mind and body.
Ballroom dancing lessons and dance events in the grand ballroom of the Lake Ashton Clubhouse are among the most popular of the many offerings on the Florida retirement community's social calendar.