Wondering where the man of your house is going to spend his time after you move to a Florida retirement community? Create a man cave for him in your new home.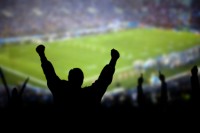 A man cave isn't really a cave. It's defined as "a dedicated area of a house, such as a study, office, basement, workshop or garage, where a man can be alone or socialize with his friends." In addition to designating that area as belonging to the man of the house, you want to make it comfortable, functional and attractive.
Of course, most new homes in Florida retirement communities such as Lake Ashton don't have basements, and garages are rarely air conditioned, so keep that in mind as you choose the space for your man cave. Once you've decided on the room for your man cave, make a list of the must-have furnishings and features. Measure the room and the furniture you have so you can do your design on paper before you actually move in. That will also show you what new items you'll need to acquire.
Man cave décor themes are generally hobby-based, focused around collections or memorabilia, and/or include trophies and plaques acquired over the years. Keep the furnishings boldly masculine, comfortable and durable. For example, choose sofas and chairs designed more for comfort than style, and coffee tables sturdy enough to double as foot rests and snack tables. It's okay if the décor of the man cave doesn't match the rest of the house – the goal is to create a retreat that will be a true refuge for him to enjoy for years to come.