Halloween isn't just for kids. In fact, this fall holiday has become as much of a celebration for "groan-ups" as for youngsters, and Halloween now ranks second behind Christmas in terms of decorating popularity. So how should you decorate your new home in Lake Ashton for this spook-tacular day?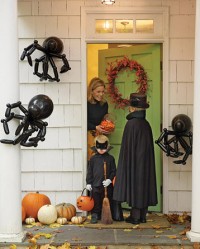 You may have celebrated Halloween as a child by putting a pumpkin on your front porch, donning a homemade costume, and heading door-to-door for candy. Times have changed! Americans spend more than $7 billion a year on Halloween decorations, costumes and candy. But before you start putting out lots of ghoulish stuff, keep these tips in mind:
• Decide in advance how much you want to do. It's easy to get carried away with all the decorations available in the stores and the fun things to make (if you're into making your own craft items). Putting everything out can make your new home in Lake Ashton a cluttered mishmash. Plan your theme and don't overdo it.
• Make it seasonal. Instead of an all-Halloween theme, consider a fall theme with a few Halloween accents. The fall decorations will carry you through until Thanksgiving.
• Watch your diet. That cute monster candy dish doesn't have to contain real candy that will tempt you every day. You can leave it empty or fill it with colored pebbles or artificial fruit.
• Keep safety in mind. Be careful not to string wires and cords in walkways (both indoors and outside) where people risk tripping. Check to make sure you aren't creating a fire hazard by overloading an outlet, plugging in items with frayed electric cords, or putting candles or light bulbs next to flammable items. Make sure breakables are secure.