When you're retired in Florida, you quickly learn the value of ceiling fans. Combining fashion with function, ceiling fans are one of the most hardworking fixtures in your home. Here's how ceiling fans can save money while making your home more comfortable and attractive: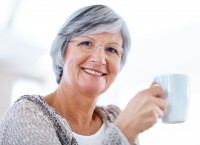 Energy savings. Depending, of course, on your individual cooling habits, ceiling fans can save you an estimated 45 percent on air conditioning costs. If you're retired in Florida with almost year-round warm weather, this can be significant.
Increased comfort. A ceiling fan can make you feel as much as eight degrees cooler than just air conditioning alone.
Design options. Certainly you can get the energy savings with a simple, plain fan, but you also have an incredible variety of styles from which to choose. Your ceiling fan can perfectly match your interior design style. Add light fixtures and you have even more design options and functions.
Easy installation. Most ceiling fans are easy to install, often in as little as five minutes. You can do it yourself or hire an electrician. If your fan is wobbly after installation, check your connections and be sure they are properly aligned and tightly fastened. Then check the alignment of the blades. If you still can't pinpoint the issue, contact the manufacturer for assistance.
• Simple maintenance. Today's ceiling fans need very little maintenance. Use a dusting cloth or soft brush to clean the blades and motor housing, and use your vacuum to remove dust from the vent. Check the directions that come with your fan for more information.
Remember that ceiling fans are not just for summer. Reverse the blade direction in the winter to help save money on heating.