The mild temperatures mean that the autumn weather in Florida retirement communities may not be as chilly as it is further north, but we still like to celebrate the change of seasons. Here are a few ways Lake Ashton residents can bring the warm colors of fall in and around their homes: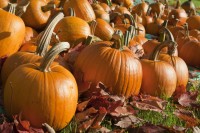 • Make pomanders. Add fall colors and fragrance by studding oranges with dried whole cloves and displaying them in decorative bowls. Insert the cloves randomly or in a pattern.
• Arrange assorted pumpkins on the front porch. Creatively group pumpkins of varying sizes and colors to add a rich fall welcome to your entryway. Add some small hale bales to create a look straight out of the pumpkin patch.
• Accent your front door with a fall wreath. Make it yourself with a foam form that you cover with lightweight artificial mini pumpkins and gourds. Fill in with moss.
• Put tiny pumpkins around the inside of your home. Display mini pumpkins and other fall vegetables in casual groups on tables or shelves. Make it look unintentional to match the casual lifestyle of Florida retirement communities.
• Use a pumpkins (real or artificial) as a vase or planter. Add fresh flowers or plant some seasonal blossoms such as pansies.
• Create a fresh fall centerpiece. Arrange pumpkins, pine cones, loose nuts, corn husks and dried leaves to add a crisp seasonal touch to your table.
• Accent with fall-colored garland. Drape the garland on the mantle, along stair bannisters, over doorways or anywhere else that would be enhanced by a splash of fall foliage.
• Change out accessories. Put away the light throw pillows and other summery decor and replace them with items in fall colors that create a feeling of the season.
• Add scents. Remember to add your favorite fall fragrances using whatever household scenting devices (candles, essential oils, air fresheners) you prefer.