Swimming offers people of all ages a huge range of health benefits, and members of active adult communities in Florida are enthusiastically embracing water exercise for its physical, social and psychological benefits.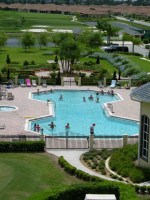 Why is exercising in the water so much better than land-based workouts? The buoyancy factor allows you to do exercises that are difficult on land—and do them without any pounding or jarring. At the same time, there is continual resistance to every move, making your workout more effective. Plus, water disperses heat more efficiently, so there is less chance of overheating.
Aquatic exercises include water walking or jogging, swimming and various aerobics routines. If those don't appeal or you want more variety, consider water yoga (traditional poses performed in shoulder-deep water), Ai Chi (combines T'ai Chi, Quigong and Shiatsu into a single water workout) or water Pilates (Pilates movements modified for use in the water).
Including water exercises in your fitness plan will help you enjoy improved flexibility, strength and balance as you build endurance. You'll also manage your weight and may even improve conditions such as asthma and diabetes. It's fun, social and safe, which is why it's so popular at active adult communities in Florida.
Lake Ashton residents enjoy a beautiful oversized heated outdoor pool with an adjacent whirlpool spa. There's plenty of room in the pool for all kinds of aquatic activities, as well as a spacious deck for lounging in the sun. Or you may opt to use the indoor heated pool in our fully-equipped Health and Fitness Center.
Of course, check with your doctor before starting any new exercise regimen.