It's true there's no place like home for the holidays – and folks who have chosen to make Lake Ashton their Florida retirement home know that best. Here's why:
Weather. Though of course there are variations, the weather in Florida during November and December is typically balmy days, pleasant nights and not much rain. You'll be comfortable without having to battle snow and sleet.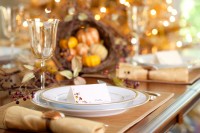 An abundance of activities. There are enough holiday-themed activities and events to fill every minute of every day with plenty left over. You can choose from the extravagant displays at the major theme parks to a wide range of smaller community happenings.
Personal hospitality. Residents of Lake Ashton love inviting friends and neighbors to their Florida retirement homes for some holiday hospitality. Celebrations range from small dinner parties to large open house events.
• Holiday spirit. Signs of the season are everywhere. No matter which winter holiday (or holidays) you celebrate, you'll feel included. Get out your decorations and make your home sparkle.
• Something for every budget. No matter how much or little you want to spend, you can find things to do that will fit your budget. Visit the theme parks, enjoy special concerts and theater productions, or just stroll through the quaint downtown areas that are all decked out for the season.
• Lots of ways to give and serve. 'Tis the season of giving and you'll find a wide range of opportunities to share with others less fortunate. Churches and other nonprofit agencies will welcome you with open arms and help you match your particular gifts with a need.