As much as you may love living in the Lake Ashton retirement community iChristmas Stocking | Lake Ashtonn Florida, you may still want to visit your family and friends "back home" during the holidays or you might want to head out on an adventure to somewhere else. If you've decided to hit the road or the air during this busy travel season, these tips will help make your trip more enjoyable: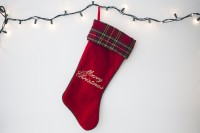 • Check your insurance. If you're traveling outside the United States, be sure your medical insurance will work where you're going. Consider purchasing travel insurance to cover unexpected events such as transportation cancellations and injuries or illness.
• Pack light and use wheeled luggage. Take only what you need. Pack less clothing and do laundry more often. Avoid large bags that you'll have trouble handling by yourself. Remember to put medication, important documents and other essential items in your carry-on bag if you're flying.
• Things you should take. If you wear eyeglasses, take a spare pair in case yours get lost or broken. If you use hearing aids, bring extra batteries – don't count on being able to get the right size while you're traveling. Make a complete list of all your prescription and non-prescription medications and supplements with both brand and generic names so you have this information quickly available if you need it.
• Ask for senior discounts. There is no standard age for senior discounts. Many places offer them for folks as young as in their 50s, so ask everywhere you go if there is a senior discount available. When you return to your retirement community in Florida, you can brag about how much money you saved.
• Travel at off-peak times. The worst thing about holiday travel is the crowds, but you can avoid heavy traffic and long lines by scheduling your travel for off-peak times such as very early morning or late at night.