As you consider your choices when it comes to retirement communities in Florida, it's a good idea to be thinking in advance of some of the ways you want to spend your time after you move. Some ideas to consider: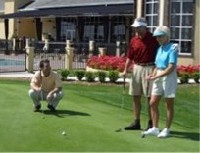 • Take classes. Whether you want to learn more about things that interest you or get a new degree, taking classes is a great way to spend your time.
• Play card and board games. Indoor games offer an opportunity to socialize, keep your mind sharp and have fun with friends.
• Cook and bake. Instead of just getting meals on the table, you'll have time to get creative. Learn about new cuisines, experiment with new recipes and take food preparation from functional to fun.
• Exercise. Stay fit with a variety of exercise options, ranging from simple walking, working with a personal trainer, doing yoga, and more.
• Garden. Grow exotic flowers or nutritious vegetables.
• Get a pet. If you didn't have time for a pet when you were working, retirement is a great time to get a furry companion—or two.
• Play golf. You'll have plenty of time to improve your game.
• Indulge yourself. Get massages, manicures, pedicures, facials—whatever makes you feel pampered.
• Get a boat. Go sailing, fishing, skiing or just enjoy being on the water.
• Relax. Enjoy a slower pace with less pressure. Sometimes you can have a lot of fun just doing nothing.
Remember, not all retirement communities in Florida are created equal. Be sure to choose the one that's going to offer the lifestyle you've been working for and dreaming of.