One of the great things about Florida golf retirement is the opportunity to play an abundance of courses. When you hit the links, you'll want to do it in style. Here are some of the golf fashion trends for spring 2015: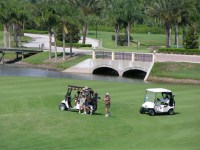 Devereau's Paris at Night collection is designed to bring fashion to the golf course and beyond, without sacrificing the functionality of the clothing. Exciting color combinations mix and match French bleu and gothic grape with the essential colors of navy, caviar and steel. These clothes look great on the golf course and later when you're out on the town enjoying dinner and more.
Dunning Golf is introducing a new fabric, a lightweight vented mesh fabric with wicking attributes to keep you comfortable and dry while on the course in Florida golf retirement. The new fabric was engineered based on feedback from tour players and is available in four colors: dusk, charcoal, grey and sequence.
Puma Golf is offering a more refined color palette with subdued patterns designed to appeal to a broader demographic. Shirts will feature slightly longer sleeves and more room in the chest.
Wolseyas spring collection is crisp and clean with a full range of garments in a color palette inspired by English rose gardens. The Thermocool fabric transfers moisture way from the body.
When it comes to accessories, socks are the new belts. KentWool's 19th Hole Collection of casual, fashion performance socks come in a wide range of styles and colors. These thin, light, strong socks are made of a 50/50 merino wool/bamboo blend. This year, bright colorful stripes are new and exciting.