Boating enthusiasts consider Florida retirement a special paradise, with the Atlantic Ocean, Gulf of Mexico, and all the rivers and waterways to explore and enjoy. Consider cruising to these great Florida points of interest: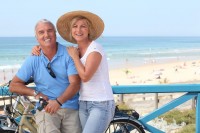 • Cape Canaveral Air Force Station (CCAFS). Known as Cape Kennedy from 1963 to 1973, the facility is south-southeast of NASA's Kennedy Space Center. It's the primary launch head of America's Eastern Range with four launch pads currently active. If your Florida retirement schedule permits, plan your visit so you can see a launch up close.
• Ponce de Leon Inlet Light. This lighthouse and museum is located between St. Augustine Light and Cape Canaveral Light. At 175 feet, it's the tallest lighthouse in the state and one of the tallest in the country.
• Fort Gadsden. Located in Franklin County on the Apalachicola River, the site contains the ruins of two forts. At various times throughout history, it has been known as Prospect Bluff Fort, Nicholl's Fort, British Post, Negro Fort, African Fort and Fort Apalachicola.
• Ernest Hemingway House. The Key West residence of author Ernest Hemingway was designated as a U.S. National Historic Landmark in 1968 and is still home to the famous six-toed cats. It's located across from the Key West lighthouse, close to the southern coast of the island. In addition to this mansion, Key West offers an abundance of other historic sites plus shopping, dining and entertainment.
• El Centro Espanol de Tampa. This historic building in Ybor City (near Tampa) was built in 1912 as an ethnic and cultural clubhouse. It's one of the few surviving structures specific to Spanish immigration to the United States during the late 19th and early 20th centuries. Today it's part of a shopping and entertainment complex.