When it comes to sitting back and relaxing and letting your worries float away, there's nothing like a good porch in one of the FL active adult communities like Lake Ashton. Porches are made for taking life easy. They're where you sit early in the morning enjoying a cup of coffee to start the day and they're where you unwind in the evening, taking in the sunset. To really get the most out of your porch, here are a few design tips that are easy and affordable and sure to make your porch one of the most used rooms in your home.A screened veranda, like the ones available in Lake Ashton's Caribbean floor plan, is great for year-round use. A screened veranda truly is like an extra room in your home, so why not decorate it as one. Curtains not only add a nice finishing touch to the space, but they can be beneficial, as well, providing shade, privacy, and even a bit of comfort against drafts in the cooler months, ensuring you can make the most of your porch throughout the year.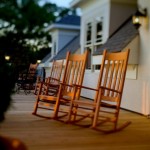 When it comes to choosing furniture, think outside the box, in both style and setup. There are some beautiful wicker and wood porch furniture that is both comfortable, durable, and attractive. Porches are often used for entertaining, so think about how you arrange the furniture. Consider using two love seats facing each other or set at an angle, to encourage easy conversation. FL active adult communities like Lake Ashton are a great place to make friends, so be sure you've got plenty of good seating.
Side tables and coffee tables not only make the space more usable, but you can also have some pieces serve double duty. An attractive deck box can be used as a side table, while also serving as a great place to store pillows, throws, games, and other porch essentials. In a pinch, put a pillow on top and it can even provide extra seating. Even if a table is just a table, put your own personal touch on it, either by painting it or decorating it with glass beads or even sea shells you've collected. A few pieces glued on along the frame or legs can really add style and personality.
Finally, don't forget to add some lighting to your porch. Thanks to Florida's mild winters, you can get nearly year-round use from your screened porch, but you will need some additional light to enjoy it. You may have wall sconces or overhead lights, but consider adding in some table lamps. They provide a soft light that adds a cozy atmosphere, as well as making an outdoor porch look like an indoor room.
Potted plants, framed pictures, and even a rug are just a few of the ways you can easily turn any porch into a second living room that you'll enjoy throughout the seasons.