Storage is one of the leading requirements when searching for a new home. After all, with enough storage, it makes it possible to keep things accessible and easy to find. The Caribbean floor plans at Lake Ashton, a Florida retirement community, feature plenty of storage, including both a regular closet and a walk-in closet in the master bedroom. Yet even with all that storage space, proper organization of a walk-in closet makes a huge difference. Here are a few tips to make the most of your walk-in closet.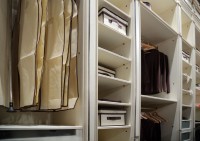 Walk-in closets make it much easier to see your clothing and find just what you want. Yet accessories, such as belts, ties, and even jewelry and watches sometimes get overlooked. They either end up in a jumbled mess or hidden away in boxes that you never remember to open. However, with specially designed square compartment drawers, you can easily store your accessories and see them all at one glance.
Corners can sometimes become a black hole in closets where items get stuffed into and never seen again. To make the most of corner space, consider installing carousel shelving or racks. This ensures that all items are easy to see and nothing gets forgotten.
Making the most of all of your closet space sometimes means that items are difficult to reach because they are too high. However, there are new hydraulic clothing rods that can be used to add an extra level of clothing storage. When not in use, they fold up like normal clothing rods, but when you want to reach an item, the rod folds down easily.
When you live in a Florida retirement community, such as Lake Ashton, there's not the same need for changing out your wardrobe from summer to winter. However, by using adjustable shelving, you can give your closet room to adjust to new additions and changing needs. Adjustable shelving means you can add shelves, take them out, or move them up and down as needed, giving you plenty of organizational options.
Generally, a mix of shelves, drawers, and rods will enable you to keep your walk-in closet organized and easy to use. Think about your own clothing and accessories to determine the right mix for your own closet.