The Lake Ashton Florida retirement community provides a wealth of amenities and conveniences to keep residents entertained. However, when you live in Florida, you might as well take advantage of the beautiful natural scenery and wealth of exotic wildlife. This fall, make the most of Florida's temperate weather and try out some of these must-see Florida road trips.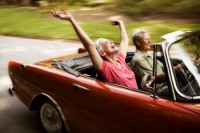 Scenic US 441 is the Old Florida Heritage Highway, meandering through uninterrupted beautiful scenery that includes rural homesteads, charming small towns, and stunning countryside. First Street in Micanopy is a great place for some antiquing, Gainesville is a wonderful place for a stroll, and you can enjoy an amazing sunset at Paynes Prairie State Park.
The Black Bear Scenic Byway takes you through the Ocala National Forest. The canopied highways 19 and 40 not only offer up breath-taking scenery, they also lead you to some of the parks many gems. Visitors can take a dip in the freshwater swimming hole at Alexander Springs, if the temperature isn't too cold, or you can enjoy a canoe ride on the St. Johns River or hike through the Juniper Prairie Wilderness.
The Everglades are always worth a visit and the Tamiami Trail that runs from Miami to Naples provides a great way to explore the natural beauty. While there, you can hike, bike, or take a tram along a paved path that winds through the sawgrass marshes of Shark Valley. There's plenty of local wildlife to keep an eye out for, ranging from herons to gators.
South of Miami, you'll find Redland, South Florida's historic farmland. Amid acres of crops, you'll find the Schnebly Redland's Winery, the Knaus Berry Farm Bakery, fresh produce at the Robert Is Here fruit stand, and strawberry fans will love Burr's Berry Farm.
One of the many benefits of living in a Florida retirement community is the relatively easy access to Florida's many attractions, both well known and not so well known. Pensacola Scenic Bluffs Highway falls into the lesser-known category, but it's definitely worth a visit! You may not expect bluffs in Florida, but this 11-mile scenic route offers up stunning views of Escambia Bay. There's also the Bay Bluffs Park that features a boardwalk that zigzags down a 75-foot slope to the shore, as you pass through a beautiful live oak forest.
No matter what route you choose, there's no shortage of wonderful Florida road trips waiting for you.