Many people moving into a Florida retirement community like Lake Ashton are used to more northern climates and home designs. As a result, settling in may require some new tips and ideas on how to make the most of your new home. Even if you're not a snowbird, you may not have experience with some of the appliances and other items that come standard with your new home. To help all of Lake Ashton's residents, they have come up with the Home and Garden video series, known has HGLA.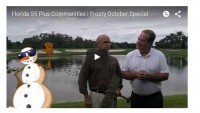 The topics of these videos range from cleaning stainless steel to improving your golf game, offering tips on appliances in the home, maintaining your yard space outside the home, and even tips on arts and crafts and keeping your golf cart in good order. There are 15 videos that give you helpful information in a short amount of time. Each video ranges from two to seven minutes, so you can easily go back and watch any video when needed without having to invest a lot of time.
The videos are hosted by John Journey, who meets with local experts to provide helpful information. Many of the videos are the result of questions from Lake Ashton residents. For example, one video explains the benefits of the ADT home security system that comes with each home. For residents who may split their time between their Lake Ashton home and perhaps a home up north, the video explains how the system lets you keep track of your home's security, even when you're away.
St. Augustine grass is the most common grass you're find in Florida lawns, but if you're not used to this thick, lush grass, the HGLA video series provides tips on keeping your lawn healthy. They also have videos that help you prepare your lawn for planting, as well as ones that offer suggestions on the best perennials to plant around your new home. There are even videos that take you through the process of building low planter walls and staining concrete to create attractive patio spaces.
Once you have your home and yard looking its best, you're sure to want to invite new friends over. One of the benefits of a Florida retirement community such as Lake Ashton is the chance to make new friends and live a social, active life. After a day spent on the golf course, get your friends together for an evening of grilling. There's even a video to help you keep your new gas grill clean and in excellent working order. If you've got a question, HGLA probably has a video answer for you. Visit the page today to see all of these helpful videos for yourself.