The fall season in Florida can be a bit different from that in less temperate regions. You may have grown up raking leaves, picking apples, or going hiking in the mountains, but your Florida retirement offers up a variety of new fall traditions, many thanks to the great weather that lets you enjoy the outdoors for longer. Whether your grandchildren live locally or are visiting for the holidays, here are 10 things you can do with them this fall to keep them entertained and to create some wonderful memories for you both.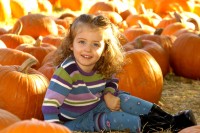 1. 80 F temperatures aren't unusual in Florida during November, so if the temperatures are still warm enough, why not set up a tent in your backyard and join your grandkids for a campout. Teach them about some of the constellations as you gaze up at the night sky.
2. Get creative and make your own special Thanksgiving placemats. Cut out Thanksgiving-themed images from magazines and glue them onto card stock. You can then take them to an office supply store and have them laminated.
3. There are plenty of pine trees and pine cones to be found in Florida, so make an outing to collect the pine cones and then take them home and decorate them with pain or glitter for some seasonal decorations.
4. If you're a bird enthusiast, share your interest in ornithology with your grandchildren. Lots of birds arrive in Florida or pass through during migration, so do some bird watching this fall.
5. A scavenger hunt that is both inside and outside the house is a great way to keep grandkids occupied and help them burn off some energy.
6. The Lake Ashton community is a great place to go for a bike ride. If your grandchildren haven't learned to ride a bike, take this opportunity to get them started.
7. If gardening is your passion, fall is a great time to teach kids about what to plant each season and how to prepare the garden for winter. Let them help plant some flowers or vegetables that they can enjoy come spring.
8. Teach them about fall produce and how to cook or bake with it. This is the perfect time to teach them how to make a pumpkin pie or a pecan pie that can be enjoyed at Thanksgiving.
9. Florida retirement doesn't mean you can't enjoy some changing leaves. Why not use them to create seasonal works of art, whether it's braided chains of pine needles or leaf prints.
10. Now is the perfect time of year to focus on volunteering and helping others who are less fortunate. Get your grandchildren to go through the pantry to choose items for a food bank, or take them to a toy store and have them pick out a toy to give to a local children's charity.