With retirement comes the free time to get out and explore old and new interests. Many active seniors find that there are a number of advantages of retirement communities that enable them to make the most of their retirement. They are free to focus on the good things in life that they've worked so hard to achieve.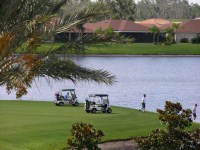 The best active retirement communities aim to make life easy and enjoyable. This starts with the homes. You'll find that they are built to be efficient and easy to live in, with most homes being spread out on one story so that there are no tedious stairs to navigate and everything is within easy access. With a number of active adults enjoying the option to get out on the road and travel, some of the homes at Lake Ashton even include special RV garages.
One of the advantages of retirement communities is the opportunity to enjoy a wide range of amenities, especially in spectacular Florida retirement communities. Lake Ashton is situated on 1,200 acres of beautiful Florida ranch land on the banks of the lake. A few of the amenities include a 26,000-square-foot clubhouse, a 30,000-square-foot health and fitness center, indoor pool and outdoor pool, two 18-hole privately owned golf courses, lighted tennis courts, pickle ball courts, a boat ramp/dock, movie theater, bowling alley and much more.
A top-quality retirement community can feel more like a resort, thanks to the saunas, restaurants, games rooms, ballroom, and social activities director. There are also nutritionists, physical therapists, and personal trainers to help you stay fit and healthy so you can enjoy all that there is to offer. In addition, communities such as Lake Ashton offer courses on a variety of topics, and have craft rooms with their own kiln so that you can exercise your creativity.
There's no shortage of activities and amenities to keep you entertained and active, and best of all, you're surrounded by many like-minded neighbors. Making new friends becomes much easier thanks to the community environment and the ease in finding people who share your same interests. An active retirement community that offers a low-maintenance lifestyle filled with like-minded individuals in a beautiful setting could be an ideal place to live.