There seems to be a constant stream of lists touting the best place to live, but those lists often change from year to year. No one wants to move every year, but finding a good place to live is important. Many of the factors that go into these lists cover broad statistics that may not be of interest to homebuyers looking for the ideal retirement community. While cost of living, taxes, weather, and crime are important, finding the right place to retire requires consideration of a number of other factors.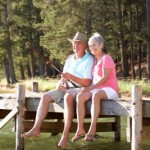 Housing costs, medical care access, taxes, cost of living, public transportation, crime rates, and weather are typically the key elements that people focus on when looking for a place to retire. Yet for active adults, there are less quantifiable elements to keep in mind. Each individual or couple needs to think about factors that are particularly relevant to their own situation and needs.
Proximity to family is important for many people. If you currently don't live close to your family but would like to move closer after retirement, think carefully about where your family members live. Is it a place where you can see yourself being comfortable and happy, even without your family there? A town or city without many attractions or care for seniors may not be right for you, despite having family nearby.
With retirement comes more free time, so it is important to make sure you have plenty of ways to keep busy and entertained. Retirement is when many people finally get the time to really enjoy their hobbies, whether it's community theater or improving their golf score. If you love sailing, a dry, land-locked area isn't going to be right for you. Think about the kinds of activities you want to enjoy on a regular basis and make sure the place you are considering can fulfill your needs and wishes.
The layout of your home is also important to consider. Homes with steep walkways and multiple levels could prove difficult to manage should you become ill or suffer from certain maladies that make climbing stairs difficult. One of the benefits of a retirement community is that they typically design homes specifically with older residents' physical needs in mind, such as having all of the living and sleeping areas on the ground floor for easy access.
Costs and security are always going to be primary concerns when choosing the best place to retire, but an affordable, safe neighborhood is no good if you're bored or unhappy. Think carefully about how you want to spend your retirement and look for a location that gives you the best chance at a happy, fulfilled life.