When it comes to choosing a Florida retirement community, there are many factors to consider. One that should definitely be on your list is a home with a veranda. The weather in Florida means that you can enjoy the outdoors for most of the year and an attractive veranda creates a second living room for you where you can enjoy the outdoors in comfort. To make your veranda look its best, a mixture of potted and hanging plants are the perfect accessories.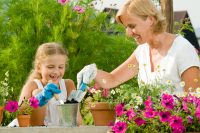 All of the homes at Lake Ashton include a veranda in the back of the home, and some of the plans, such as the Caribbean, Weston, and Plantation have the option of roofed and screened verandas for even more convenience and year-round usability. With these verandas, your potted plants can survive easily and don't need to be moved except during the occasional winter frost.
When it comes time to choose your flowers, think about the color scheme of your home and veranda, as well as any flowering plants nearby. Look for complementary color schemes to make the biggest visual impact.
Flower pots are one instance when size does matter. Not only do you need pots that will allow the plants to grow and flourish, but they also need to be big enough to be seen. Small pots can easily get lost or just look puny once they're put in place. Be bold and choose large, decorative pots that can hold a variety of plants to create a potted display that holds its own against any furniture.
Alternatively, if heavy plant pots aren't something you feel comfortable with, use some pieces of furniture to create multi-level displays of smaller pots. This option also lets you show off a variety of blooms throughout the year. You can really get creative and use pieces like old dressers and let the drawers serve as plant beds.
Whether you choose large pots with multiple plants or smaller pots with individual plants, don't forget to choose some varieties that grow tall, such as Angelonia, and some that cascade over the pots, such as Pennywort. Cascading plants in hanging pots create a beautiful natural screen.
If you're looking for the ideal Florida retirement community where you can relax and indulge your green thumb, Lake Ashton may be the perfect place for you. Best of all, if you purchase one of their homes this April, you can take advantage of a special deal in which you will receive $15,000 to use in their Design Center to help you customize your home. You also receive a free one-year golf membership with your purchase. Act now and you will soon be enjoying the pleasures of your own verdant veranda.