One of the many reasons people like to plan their retirement in Florida is the great weather throughout the year and the opportunities to go swimming, sailing, hiking, sight seeing, and so much more. Yet Florida is also a great starting point for a grand American road trip. There are plenty of places to visit right there in Florida, but you can also plan a variety of trips heading in different directions. Best of all, with a home at Lake Ashton, you can even have a special garage just for your RV! Get your motor running and check out these 10 great American must-sees.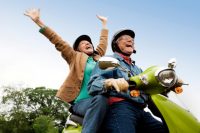 The Florida Keys. If you want a mini road trip, simply head south to the Florida Keys, full of rich, tropical beauty, great restaurants, and even some literary highlights, such as Hemingway's beautiful home on Key West.
Dripping Springs, Texas. Visit the Hamilton Pool Preserve, a natural preserve with a breath-taking swimming hole with limestone outcroppings that create a 50-foot waterfall. You can swim, picnic, and take in the scenery in this spot close to Austin.
Mill Run, Pennsylvania. Those who appreciate architecture combined with natural beauty should be sure to visit Fallingwater, a National Historic Landmark and Frank Lloyd Wright's most famous building project. The stunning home sits deep amid the forest and looks out over a 30-foot waterfall.
Catskill Mountains, New York. Head out to these verdant mountains in the summer for some fresh air during the warm summer months, or take in the glorious color changes in the fall. Either way, you get great scenery and charming towns.
Cape Elizabeth, Maine. Portland Head Light is the oldest lighthouse in Maine and the coastline makes for some of the best sunset photos imaginable.
Monument Valley, Colorado. Fans of old western films will feel right at home in this majestic spot where giant sandstone formations rise up, creating some of the most recognized scenery in the American West.
White Sands National Monument, New Mexico. You may be used to white sand as a result of your retirement in Florida, but these gypsum sand dunes – the largest in the world – are truly stunning. Despite their beauty, they're not overrun with tourists.
Upper Antelope Canyon, Arizona. This awe-inspiring slot canyon has been created by rushing water flowing over the rocks, creating amazing patterns. The light, colors, and lines aren't to be missed.
Big Sur, California. What is a great American road trip without a drive along the Pacific Coast Highway? Big Sur combines the best of dense redwood forests and fantastic rocky California coastal waters.
Mount Rainier National Park, Washington. From the southeast to the northwest, finish your trip with a visit to this active volcano surrounded by beautiful wild flowers and plenty of wild life. Nature have never looked so beautiful.