One of the many reasons people choose a Florida retirement community like Lake Ashton is the ability to get out and explore Florida's many sights and attractions throughout the year. Thanks to the temperate winters, many locations throughout the state can be enjoyed year round. One place that is always worth a visit is Bok Tower Gardens, a national historic landmark located in Lake Wales.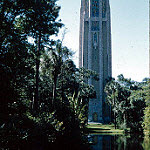 Since 1929, Bok Tower Gardens has charmed visitors with its stunning historic landscape gardens, Singing Tower carillon, and Pinewood Estate, a magnificent 1930s Mediterranean-style mansion. The original site was the inspiration of Edward Bok, who emigrated to the US from the Netherlands when he was a young boy. Despite not knowing his new country's language or customs upon arrival, he worked hard and became a highly successful publisher, Pulitzer Prize-winning author, respected humanitarian and an advocate of world peace and the environment.
During winter visits to Lake Wales, Bok became enchanted with the views from the nearby Iron Mountain. He purchased part of the land and transformed the area with his subtropical gardens and carillon tower, creating a sanctuary for migrating birds. Today, more than 126 species of birds spend all or part of their time in the peaceful oasis.
Another star attraction is the 205-foot neo-Gothic and art deco Singing Tower carillon. This spectacular tower is a joy for both the eyes and the ears, thanks to the reflecting pool leading up to the tower, the exquisite stonework in the tower itself, and the world-class carillon inside. Concerts from the 60-bell carillon can be heard throughout the gardens at 1 and 3 p.m. daily.
A visit to the gardens, tower, estate, museum, reflecting pool, café and gift shop can easily fill three or four hours, if not more, so leave yourself plenty of time to take in all of the beauty and history. Most areas are accessible to those with disabilities, but due to the historic nature, some sections are not. However, there is also a seasonal on-property shuttle service that takes visitors from the Visitor Center parking lot to both the Singing Tower and Pinewood Estate.
Start your trip with a stop at the Visitors Center to pick up various guides and learn more about the history of the gardens. There are plenty of volunteers who are always happy to answer any of your questions. The Bok Tower Gardens also host special programs and seminars throughout the year, including topics such as photography, cooking, and gardening. You can even pick up some beautiful plants to take home to your Florida retirement community so that you'll have a lovely reminder of your visit.
A visit to the gardens is a pleasure for all ages, so make plans today to visit this wonderful local attraction.