As powerful and technologically advanced as planes are today, most people find flying to be an arduous task full of long lines and cramped seating. Yet flying used to be a much more glamorous experience and the planes evoked a sense of amazement and excitement. Fortunately, residents of Lake Ashton, a Florida retirement community, can relive and experience the beauty and thrill of a bygone era at the Fantasy of Flight museum in Polk City.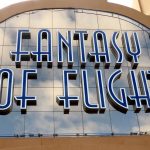 Fantasy of Flight houses the world's largest private collection of vintage aircraft in a setting that combines the elegance of art deco with rugged industrial architecture. This unusual museum is the brainchild of Kermit Weeks. Since he was a child, Weeks has had a passion for airplanes. He learned to fly while still a teenager and even began building his own home-built airplane at the age of 17. By the age of 20, he was competing in aerobatic flying competitions where he would go on to place in the top three in the world five times, win the United States National Aerobatics Championship twice, and win several Invitational Masters Championships in various worldwide competitions.
Early on, he developed a passion for buying, restoring and preserving antique aircraft. His collection continued to grow and in 1995, he opened Fantasy of Flight as a way to share his collection with fellow flight enthusiasts and teach visitors about the great history of flight. The collection represents everything from the thrilling eras of earliest flight to the start of the jet age, and almost all of the planes are restored to airworthiness.
There is plenty to view and admire at Fantasy of Flight, but there are also a variety of interactive exhibits. With special reservations, it is also possible to fly in a real biplane. In addition, the venue is available for hosting special events and parties, set amid the beautiful glamor of the art deco styling.
Fantasy of Flight is typically open Friday through Sunday, but check the website calendar to make sure. Admission is $12 for adults, $10 for seniors, and $8 for children. To learn more about Fantasy of Flight, don't forget to check out John Journey's video of his visit to this wonderful attraction that is located within easy access to Lake Ashton, a premier Florida retirement community.