One of the great things about choosing a Florida retirement location is the fact that friends and family will always want to visit. There's no shortage of things to do to keep all ages entertained. However, when the grandkids visit, there's one place that is an absolute must: LEGOLAND! This popular attraction is open all year, but if the grandchildren are going to be visiting during the holidays, don't miss the Christmas Bricktacular.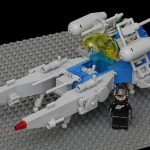 This annual celebration takes place December 17-18, 24-30. From special Santa breakfasts to fabulous fireworks in the evening, there is plenty for the whole family to see and do all day long. Among the highlights are a 30-foot-tall Christmas tree made of thousands of LEGO® and DUPLO® bricks, festive decorations, a life-size LEGO Santa, reindeer and sleigh, and opportunities to build with LEGO alongside Master Model Builders.There will also be holiday-themed scavenger hunts to take part in with plenty of prizes to win, and throughout the day, there are opportunities to meet LEGO Santa and LEGO Toy Soldier during their daily park appearances.
In addition to all that is available as part of the regular entrance, there are other events for which you can make special reservations. Start the day off with Santa's Breakfast, which includes seasonal treats, along with visits from LEGO Santa and his friends. Each child will receive a LEGO Minifigurine and the family will receive a LEGO ornament and printed photo from the event.
Santa's Christmas Workshop offers up the opportunity to build your own Christmas decoration with help from LEGO Santa, Toy Soldier and step-by-step instructions from a Master Model Builder. Along with the decoration, there will be hot chocolate to enjoy and each family will receive a printed photo for the memory book.
Finally, you can end the day enjoying the brilliant fireworks set to classic Christmas music. For an extra treat, you can reserve spots for the Fireworks Dessert Party. The dessert party includes a mini dessert buffet, as well as a fun and interactive character dance party, finished off with relaxing seats in the premium viewing area for the fireworks display. Special figurines and photos are also included.
Even if you don't visit for the Christmas holidays, LEGOLAND offers plenty of entertainment throughout the year. So the next time you have some budding builders visiting you at your Florida retirement community, get your tickets to one of the most fun and interactive theme parks for kids.