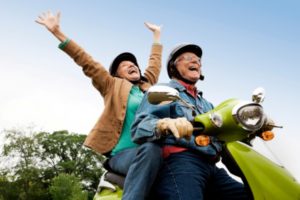 Retirement is a new chapter in people's lives. For many, it's a long-awaited opportunity to engage in hobbies and passions too often delayed. For others, though, it can bring concerns of how to fill all the free time and fears of loneliness. Fortunately, whether you have big plans or big worries, you'll find that a retirement community in Lake Ashton FL provides opportunities, convenience, community and peace of mind.
One of the reasons people choose a retirement community in Florida is the weather. Because you can be outdoors for most of the year, Florida communities tend to offer a broad assortment of activities that can be enjoyed year-round. Golf, swimming, tennis, and more are available on site at Lake Ashton, plus there are plenty of opportunities for fishing, sailing and other outdoor activities within just a short drive of the community. Plus, when winter comes, there's no worries about shoveling snow or icy paths and streets.
For those who want to travel, communities like Lake Ashton offer unexpected benefits. You have the peace of mind of the security of living in a protected community, so that even when you're out of town, your home remains safe and secure. In addition, for those who specifically enjoy the comfort and convenience of traveling by RV, Lake Ashton has a series of homes with dedicated garages designed for RVs. This means that you can keep your vehicle at home when it's not in use, without it taking up unnecessary space or being an eyesore. It's also much easier to load and unload.
Perhaps one of the biggest draws of living in a retirement community is the convenience of having so many of your wants and needs fulfilled within the community itself. If you don't feel like cooking, take advantage of the full dining and lounge facilities. If you want to get or stay in shape, there's a full fitness center, as well as personal trainers and nutritionists. Plus, when it comes to entertainment and filling your days, there's no shortage of activities, including movies, bowling, tennis, shuffleboard, arts and crafts with a kiln, indoor heated pool, a library and games room, billiards, a sauna, and much more, as well as a full-time social activities director if you want some new inspiration.
The convenience and peace of mind that come with a retirement community in Lake Ashton FL are some of the major draws, but what many people who live there will tell you is that the sense of community and friendship that soon develops is one of the greatest perks. Having a close-knit community with many like-minded neighbors makes it easier to reach out and develop new friendships. As you find others who share your similar interests and activities, you know that you don't have to go far to meet up. Having a strong social life and a sense of community is perhaps one of the greatest benefits to long-term happiness during retirement. When you choose Lake Ashton, you get a welcoming community in a beautiful setting, and so much more.