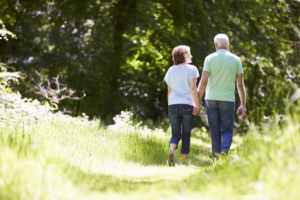 Spring cleaning is usually the big home project that keeps people busy as the days start to get longer and there's more sunshine to highlight any dust bunnies and cobwebs that may have developed. However, when you live in the Lake Ashton FL retirement community, you've probably already taken care of spring cleaning, thanks to the early arrival of spring weather. However, just because your home is clean, doesn't mean you can't still refresh your home with some easy projects that will breathe new life into your home's decor.
No matter how nicely your home is decorated, after a while it's time to change things up a little. One of the easiest ways to do it without spending a lot of time and money is by applying a new coat of paint to some of your rooms. Consider simply warming or cooling your existing neutrals, pick a totally new but complementary color for a room, or just create one accent wall in a bold color. You don't have to do the whole home; just pick one or two rooms to update.
If you don't feel like making that big a change, consider changing out some of your decorations. If you've had the same combination of photos and knick knacks on a bureau, entry table, or some other surface, try moving things around and creating new combinations or picking up some new pieces. Create a vignette of wood-themed pieces, mix a pile of books and photos, or add some new flower arrangements or plants amid your figurines. You don't have to display everything at once. By putting some pieces away and switching things around each season, you can easily update your decor without a lot of effort or expense.
Plenty of bibliophiles look forward to retirement for the chance to read even more books. If you've amassed your own personal library, give a thought to playing with the arrangement of your books. A mix of vertical and horizontal stacking creates visual interest, helps if you're short on bookends, and also often allows you to fit more books onto your shelves. Alternatively, for a real visual impact, try grouping your books by color, creating your own rainbow effect if you have a lot of books with a variety of colorful spines.
Finally, you can't go wrong with adding some fresh flowers or plants around your home. Let some ivy trail over the edge of a side table or tv console. Place a couple of colorful gerberas in a small vase on your bedside tables. Pick up an arrangement of succulents for your coffee table or dining table. Even if you have a black thumb, consider some simple, elegant silk flower arrangements for your entrance foyer or at least a spring-themed wreath for your front door. Flowers and plants add a sense of vitality and freshness to any room.
We update our wardrobe for the seasons, so why not update our homes occasionally to keep things interesting and looking their best. The Lake Ashton FL retirement community features beautiful homes that are thoughtfully designed, so make the most of them and give them some updates this spring.