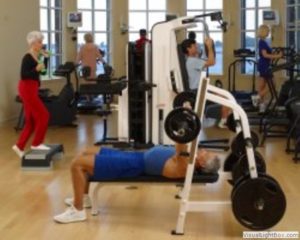 As you lie in bed at night and think about your plans for the next day, it's easy to tell yourself that you'll get up and go for a long walk or visit the gym for a good workout. However, when the next morning rolls around, it's easy to lose that motivation. However, if you have a workout partner, you're more likely to actually follow through, thanks to their motivation and the commitment you've made to each other. Living in a Florida retirement community like Lake Ashton makes it easy to find a fitness partner and to find a workout you both enjoy.
By working with a fitness buddy, you can set specific times and days to meet up and work out. Of course, you want to find a partner who won't back out all the time or let you get away with skipping out. Find a friend who is serious about sticking to a regimen and soon it will just be part of your daily or weekly schedule. Think of it as an important appointment that you can't miss.
Studies show that working with a fitness friend or group encourages you to workout longer and push yourself more than when you workout alone. In some cases, people exercise up to three times longer with a friend than on their own. After all, even if you're just going for a brisk walk, when you've got someone to talk to, it's easier to take a longer route, because you're spending time with a friend, as well as exercising.
One of the many bonuses of living at Lake Ashton is the extensive Health and Fitness Center on site. Swimming, weights, aerobics, tennis, and so much more are right at your fingertips. You could easily have a series of workout buddies depending on various interests. Get together with your partner and friends for a fun tennis match, pair up with another friend who enjoys swimming or water aerobics, and if you like working out on machines, you'll surely find others who share your interest and who will encourage you and support you. Plus, by surrounding yourself with multiple friends who care about staying healthy, it makes it easier for you to make healthy, active choices for yourself. You have a built-in support group.
Thanks to the wealth of fitness choices available at Lake Ashton, you can mix and match activities, ensuring that you won't get bored. Machines on Mondays, tennis on Tuesdays, water sports on Wednesdays … you'll run out of days of the week before you run out of options. Not to mention all of the great outdoor opportunities available when you live in a Florida retirement community like Lake Ashton. Go for walks and hikes in local parks, swim in local lakes, or simply get your daily steps in visiting some of the historical sites. With so many like-minded neighbors, you'll never be at a loss for company.
Even just going on a social walk with friends, without aiming for a specific heart rate, will benefit you through better blood pressure and a decrease in depression. Being social and being active is excellent for both your physical and mental health.