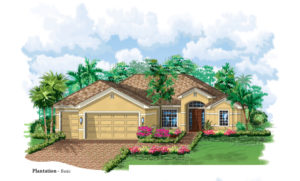 When it comes to porches in Florida, you're looking at space that's often livable throughout the year. As a result, it's important to think about making it a truly useful and attractive space. Whether you create a garden oasis or draw some of your home interior design elements to make the spaces flow together, the decorating options are seemingly endless. Living in a retirement community in FL also means you'll probably use the space for entertaining, so it's worth it to move beyond the most basic design elements and get creative.
First off, think about the size and how you want to use the space. The homes at Lake Ashton have beautiful garden walkways leading to the front entrance. For those areas, you may prefer to focus more on welcoming lights — including solar lights along the path — and using some statement pots and flowers to frame your entrance. Be bold with brightly colored pots holding attractive ferns or let the flowers bring the color and choose more neutral planters. Layering levels of plants or decorative garden elements further adds visual interest to the entrance.
However, when it comes to the covered and screened porches found in the back of the homes at Lake Ashton, you can really play with furnishings, designs, lights, and decorative details. If you entertain regularly, look for larger sofas as well as individual chairs or chaise longues to make the most of seating so you don't have to pull out uncomfortable folding chairs or drag furnishings from inside. If your inside living area opens onto the porch, consider looking for furnishings and decorative elements that complement your interior to make the space move easily from indoors to outdoors.
Ideally, include a table large enough to accomodate drinks and snacks for all of the seating. Smaller side tables can serve double purposes as attractive holders for cooler chests or simply for areas to keep plants or candles as well as drinks. Some people choose instead to fill their porch with a full-size dining table in a rustic or tropical finish to ensure seating for all, especially if you like to host dinner parties and barbecues.
Because your porch will get use throughout the year, consider adding in lights and ceiling fans. These additions truly turn your porch into a living space. Even in the winter, cozy blankets, a space heater or a fire pit can prolong the use of this area.
Think about how you use the space — or how you dream of using the space — and then add decorative elements beyond the usual tables and chairs. Decorate using colors or prints that you love, from bold patterns to bold colors. You can often get away with more vivid colors and patterns on a porch than you can inside.
Using those colors and prints, add a colorful rug to tie the space together, make sure there are attractive, colorful cushions, decorative but functional trays, lamps for safe and easy lighting, and plenty of greenery and other regional items like shells and coastal decorations that look right at home in a retirement community in FL. Think of your outdoor space as an extension of your regular living area and decorate accordingly. There are plenty of fabrics and materials made specifically for outdoor use that allow you to create a truly remarkable space you'll enjoy year round.